The Harrisburg School, District No. 3 building located at E76546 County Rd. B, Spring Green WI 53588. This is an historic building that reflects what life was like in early Town of Troy. More info.
Black Hawk Elementary, E 79995 School Road, Sauk City, WI 53583. This elementary school has served the community since the late 1950's. It recently closed as Grade Schools were consolidated in Prairie du Sac.
Hwy. 60, which runs along the Southern border of the Town of Troy is a Rustic highway designation attracting tourist who want to see Wisconsin from a different view.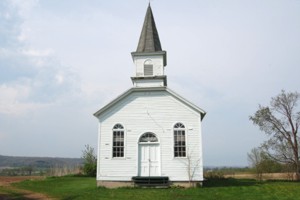 Harrisburg Church, is a rustic look at how early settlers attended church in the Town of Troy, WI. Located within proximity of the Harrisburg School District No. 3, it is a reminder of days gone by.
The Witwen Campground is a focal point of the community hosting the Witwen 4th of July Parade that annually draws 5,000 or more local people. Additionally, the campground is the site of local live music performances.
Though our Township's name is Troy, we have 3 unincorporated Villages in our Town, Black Hawk, Witwen and Cassel. In our early history, each of these hamlets had a vibrant local economy.
The Town of Troy, Town Hall is located at S10372, Country Rd. C., Sauk City, WI 53583. To contact us, call (608) 544-2000.
Honey Creek flows from the Baraboo Hills into several branches and then on to the Wisconsin River in our communities,
The Town of Troy's Southern border lies on the Wisconsin River. The Wisconsin River Valley stretches from the hydro-electric dam at Prairie du Sac and runs to Prairie du Chien on the Mississippi River. The river is a great source of recreation and tourism.